Happy Birthday Poems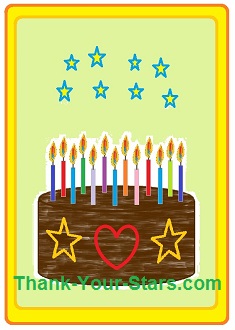 Happy Birthday Poems are a nice way to celebrate birthdays.
Let us first thank God and our parents.
Thank you, God, Mom and Dad,
For the gift of life and birth,
To celebrate birthdays and be glad,
Now ___ times on this earth.
We rejoice with family, loved ones, friends on their birthdays.
Is it Your Own Birthday?
Happy Birthday ... and congratulations! You're blessed to have been born, and to be alive. You're special ... you have been given a very special purpose in this life.
Your birthday is a special day to celebrate with thanksgiving to God for giving you life, and thanksgiving to your parents for helping God bring you into this world.
An On Your Birthday Poem
This original "on your birthday" poem helps us appreciate the very special day we were born, whether it was 10 years ago - 50 years ago - or even 100 years ago.
A special thanks to God, and congratulations to our parents for helping God bring us into this world - however long ago.
7 Belated Birthday Poems
Unfortunately, unless we get a reminder, it's easy to forget an important birthday. It can happen to the best of us.
To make the best of the situation, here are some poems that express best wishes and greetings for a birthday, even if you're late.
"It's better late than never."
16 Birthday Friendship Poems - Birthday Poems for Friends
Poems are a great way to remember your friends in a special way, on their birthday.
It's one of the most important days that come around every year.
It's a unique opportunity to nurture and renew your friendship, show your appreciation and support, and have fun at the same time.
13th Birthday Poem - Teen Birthday Poem
This 13th birthday poem is a prayer asking God's blessings on the new teenager.
Teens need wisdom, encouragement, prayers - and true friends.
At one time or another we all fail. But one true friend will never let you down.
God Loves You Teenager -
Stories about a Teenage Boy and a Teenage Girl
A wild boy. An unwed pregnant girl.
They get the greatest privileges, and the greatest responsibilities in all of history - while they are teenagers !!!
How will they survive?
2 Poems For 16th Birthday - Sweet 16 Birthday Poems
Teenagers are full of life and energy. They face changes, choices, and challenges.
Parents, family, teachers, friends! Let's help them face life with our love and best wishes, but especially prayers asking God's blessings and protection.
An Original 21st Birthday Poem
At 21, you're "free" at last. You're a young adult, life is good, you're in your prime, life's ahead.
But you're also realizing there's newer and bigger responsibilities. This poem wishes you true freedom - real success - peace and fulfillment in a life of service - and the gift of wisdom to make good choices.
Poems about Turning 50
Growing older, should be about getting holier, better, and wiser.
50 is a special time to re-evaluate your life. Ask yourself if you're on track to:
• fulfill your purpose, • create your destiny, • and leave your legacy.
Even though we may have gray or white hair, there is still a lot of good work to do here on earth. Are we getting ready for Heaven? Living a Heaven lifestyle here on earth, with God's help, we're not "over the hill" - ever! We can be young and full of life, full of energy, on the inside, now matter what our age.
5 More 50th Birthday Poems and Rhymes
50 years is only 600 months.
Not everyone gets to live on earth this long.
It certainly is a time of gratitude, especially to God, for the gifts of life and health and energy and so much more.
Funny 50th Birthday Poem
This humorous, happy 50th birthday poem shows the advantages of being "over the hill."
It lists how many decades, weeks, and days are in 50 years, and contains 2 styles of poetry.
We thank the Good Lord for giving - and preserving - our lives!
Fun Birthday Facts
Technically, your birthday is the actual day you were born. Every year on that day thereafter would be the anniversary of your birthday. But that would be too long to say, so we simply say or sing or write, Happy Birthday!
There are some countries in the world where they don't celebrate birthdays. And in some other countries, they celebrate everybody's birthday on the same day, on just one day in the year.
Birthdays are special events.
But unlike holidays, where a lot of people celebrate together, it's like your own personal holiday - even if you have to go to work or school. It's a day unique and special to you.
---unless you're a twin, triplet, etc. ... and even then, only you are uniquely you, and the time you're born is different, even if it's by a minute.
And just in case you feel lonely on your own birthday holiday? You share your actual birthday anniversary date with, more or less, about 19 million people in the world.
Every birthday of yours will be different, because you will be one year older than the last. Unless you were just born, and then I doubt you would be reading this!
A Time for Giving Thanks
Birthdays are an important time to show our appreciation and gratitude.
Let us thank the Good Lord for each and every one of our birthdays - for the precious gift of life we have received - and everything else - our spirit, soul and body - our health, gifts, and talents - our mind, memory, and abilities - our parents, loved ones, family and friends - and so much more.
Let us also remember our parents, who assisted God in giving us life.
Thinking of other people on their birthdays is kind and thoughtful.
In every birthday greeting, card, and prayer you send ...
Thank your stars!
Go to Home Page .
© Copyright 2010 - 2023 Thank-Your-Stars.com