Our Lady of Guadalupe Story


- Patroness of the Americas -


A Shining Star - with a Message for Us All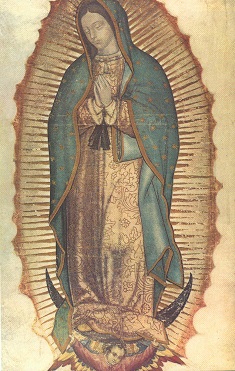 December 12th is the Yearly Feastday of Holy Mary of Guadalupe.
On this image of Our Lady of Guadalupe, you can see many stars on the cloak of Mary.
Mary is one of the most beautiful, brightest Stars in Heaven.
This website, Thank-Your-Stars.com, is dedicated to Mary and is under Her powerful protection.
In the 16th century, an entire civilization in Mexico was almost destroyed by evils such as devil worship in the form of human sacrifice.
Pagan ministers and witches had a stranglehold for 100 years on the people, forcing many millions of human beings to be sacrificed in their temples and on their pyramids.
The explorers and soldiers were sometimes not much better, some were brutal. The surrounding tribes joined the soldiers to fight the oppression and free themselves from the tyranny. Sickness, famine, and poverty killed many.
Those missionaries who had a good heart were making slow progress. It seemed a lost cause.
Does this sound familiar to our world, our time?
- - - - - - - - - - - - - - -
In this mess, in 1531 the Virgin Mary, Mother of Jesus, came to a native Indian, Juan Diego. He was burdened with many problems of his own.
The bishop and the servants didn't believe his story of Mary coming to him. His wife had died childless some years earlier, despite their prayers. He had very little local community to support him in his new faith. In fact, his uncle, his only family, became suddenly sick and was dying. Because of this, he forgot to come back the next morning to get the sign Mary promised. When he came by a day later, on December 12, 1531, he went around the hill, to avoid embarrassment.
Mary came down the hill, and said these beautiful words, which apply to each one of us today:
Listen, my child, to what I tell you now.

Do not be troubled
nor disturbed by anything.

Do not fear illness nor any other
distressing occurrence nor pain.

Am I not here, your loving Mother Mary?

Am I not life and health?

Have I not placed you on my lap
and made you my responsibility?

Do you need anything else?
We can answer Mary by telling her our needs, wants, wishes, and desires. Let us at least thank Mary for her motherly concern for our world, continent, civilization, country, and each one of us.)
- - - - - - - - - - - - - - -
Mary then told Juan to pick the roses up the hill. Mary arranged them in his tilma (a work apron).
That was one sign, a miracle, because roses don't normally bloom there in winter in the higher altitude.
When he opened it at the bishops place, everyone saw the next miracle, her image was on his tilma - which you see at the top of this page.
- - - - - - - - - - - - - - -
It was a critical turning point - a great curse was lifted.
Miracles of healing, even resurrection from the dead, came to those who turned to Mary.
Her apparition is known as Our Lady of Guadalupe, from a native Indian term meaning "She who crushes the feathered serpents head."
This story is worth researching. There are online articles and videos, and books written on this story.
There are pictures, small and large, that are available for purchase online or in some religious gift shops. You're I recommend you make sure it is a true photo of the original miraculous image, not just a drawing or painting, because there are thousands of hidden symbols and meanings that only a photograph can show.
- - - - - - - - - - - - - - -
When Mary's image is put in a special place in our homes, and we honor her, many miracles can happen, because Mary wants to help us so much.
Through her miraculous image, we often feel her presence.
Mary is the Mother of Jesus, and so Mary can bring us peace, the true Peace of the world, her son Jesus.
People of bad will, can be agitated because Mary curses and crushes the evil spirits in and around them.
We pray for these people, because "our fighting is not against flesh and blood, but against prinipalities and powers, the spirits of wickedness in high places." (Ephesians 6:12)
People of good will, can find peace, because Mary wants to bring all kinds of blessings into their lives and homes.
Mary is a powerful protection against evil. There is so much evil in the world, no mere man can overcome it.
Jesus said, "Without me, you can do nothing." (John 15:5)
Jesus gave Mary to us as his last gift while dying on the cross when he said to his disciple, and all his followers, "Behold your Mother." And like John the beloved disciple, standing with Mary at the foot of the cross, let us take Mary into our home, into our lives, into our world. (John 19:26-27)
You can read more about this
here, it is the 3rd Word of Jesus on the Cross,
as recorded in the Gospel of John.
- - - - - - - - - - - - - - -
In the words of Mary to Juan, look how much Mary takes care of us - or at least wants to.
There is only one condition. We must be her children, the adopted supernatural children of God our Father and Mary our mother.
"Unless you become as little children, you cannot enter the kingdom of heaven." (Matthew 18:3)
Little children need not only a father, but even more importantly, a mother.
Not everyone wants to be the children of God and Mary, and so they remain slaves to sin and the devil.
"Yet to all who receive him, to those who believe in his name, he gives the power to become children of God." (John 1:12)
- - - - - - - - - - - - - - -
In recent years, we have many reasons to look for new direction and spiritual and temporal assistance.
We need Heaven's help.
In this spiritual and temporal war we get power - and win - by using the spiritual weapons Heaven has given us, such as prayer.
One most powerful prayer is the Rosary. It was given by the Blessed Virgin Mary in the early 1200's to overcome sins and evils.
At Fatima in 1917 the Blessed Virgin Mary came to 3 shepherd children and asked us to pray the Rosary daily to overcome the evils of our time.
If you are not familiar with the Rosary, you're welcome to look it up online.
It is a union of prayer, meditation, and reflection. It can give great direction and peace in our lives.
May our dearest Heavenly Mother Mary help us always be faithful.
- - - - - - - - - - - - - - -
It is good to reflect on Mary's message, to hear Her words to us, like the ones Mary said to Juan Diego, as we see above.
These words of Mary are a great inspiration and encouragement.
I say these words of Mary every day, and you can also.
Mary protect and keep us all safe and healthy in body and soul - and grant us many gifts, blessings and graces - until we reach Heaven, receive there Her motherly blessing, and are safe forever!
Blessings to you and your loved ones!
- - - - - - - - - - - - - - -
Mary is one of the most beautiful, brightest Stars in Heaven.
This website, Thank-Your-Stars.com, is dedicated to Mary and is under Her powerful protection.
Thank your Stars!
Go to The Star Mary.
Go to Home Page.
© Copyright 2010 - 2023 Thank-Your-Stars.com