Independence Day Poems
for the 4th of July,
" America's Birthday "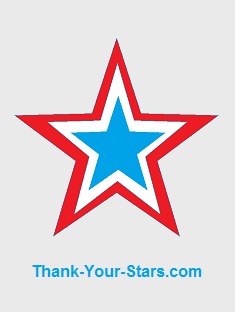 Independence Day is a good time to show our patriotism. We do this best by praying for our country, and by being faithful to God's laws, and the just laws of our country, and fulfilling our duties to God, family, church, community, and nation.
Independence Day is also a very good reminder of our duty to show our appreciation, first to God for all our freedoms, and then also to those who serve our country.
It's easy to celebrate America's Birthday with fireworks, flags, food and fun.
However, it's also easy to forget that America's birthday involved a war, and that our freedoms were purchased at the cost of many lives and sacrifices.
May these Independence Day poems and thoughts remind us of these important values.
When is Independence Day
When is the Independence Day holiday - the birthday of America - observed?
This gives a chart of when the work holiday is observed, good for some years.
3 Short July 4th Poems
The first is a 14 word silent salute to the flag from beyond the grave.
The next is a reminder of the blessing of living in a land of freedom.
The last is a call to action.
A Special Poem on Independence Day
This poem has a special message for citizens of the United States of America.
It's a poem about America being either U-N-I-T-E-D, or U-N-T-I-E-D.
Another 4th of July Poem, Especially for Children
This is a simple marching poem with a bit of patriotism.
It's a great poem for parents and teachers to use, reminding the children or students why we celebrate July 4th, what Independence Day is all about.
We could all use a bit of reminding!
What is Independence Day
What is the meaning and history of Independence Day?
This is a very brief overview, covering what led to the events when the Declaration of Independence was published, and the United States of America was born.
A Day to Remember our Heroes
Independence Day is also a day to remember the many great and small heroes in our nation's history.
God bless all our heroes. God help each of us become a hero, faithful to our duties in service to our country and to one another.
On Americas Birthday, and often throughout the year, let's remember to show God our deep appreciation for:
the great country we live in,
the hard work and sacrifices of pioneers and founding fathers,
the soldiers, sailors, and countless others who fought for our freedoms and help preserve them, from centuries ago to the present day.
If you don't think it's a great country, then go get your praying boots on and ask God what you can do about it. And like a good father, he might tell you to quit your complaining and start by being grateful for what you have.
And while you're on your knees - because that's what made this country great - you can remember to pray for the rulers and citizens of America. And for future generations as well.
God-fearing people is what made - and will continue to make - this country great.
Happy Birthday America! Happy Birthday to all Americans - past, present, and future!
Thank your stars!
Go to Home Page.
© Copyright 2010 - 2023 Thank-Your-Stars.com