Thank You 

Poems for
Persons - Events - & Holidays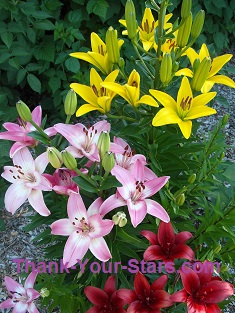 Thank you poems - inspirational, serious, even a few funny ones ...
• for the persons in your life - the stars of your life - beginning with God - and including family, friends, teachers, pastors, fellow students and fellow workers
• for life events & special occasions - such as birthdays, weddings, anniversaries, retirement, funerals
• for holidays throughout the year - because holidays are appropriate times to give thanks, and are "teachable moments" to instruct the next generation of the importance of gratitude.
_______________________________________________
CURRENT CALENDAR POEMS & THOUGHTS
_______________________________________________
_______________________________________________
_______________________________________________
Because this site is Thank-Your-Stars.com, on a semi-regular basis (about once a month) I post, for inspiration and encouragement, one or more verses on either gratitude or stars, taken from the Bible.
This is posted as of Sunday, January 27, 2019. It's the first time I've posted together verses from 3 different parts of the Bible, but I think it's appropriate - and badly needed - in light of the circumstances we find ourselves in, and the times we're living in:
First of all, then, I urge that
supplications, prayers, intercessions,

and thanksgivings be made for all people,

for kings and all who are in high positions,
that we may lead a peaceful and quiet life,
godly and dignified in every way.

This is good and pleasing
in the sight of God our Savior,
who desires all people to be saved
and to come to the knowledge of the truth.

-------------

We give thanks to God always for all of you,

remembering you continually in our prayers, ...

-------------

The Lord bless you and keep you;
the Lord make his face to shine upon you

and be gracious to you;

the Lord turn his countenance upon you
and give you peace.

1 Tim 2:1-4 ~ 1 Thess 1:2 ~ Numb 6:24-26


1. Website Blessing Prayer
by Paul Berchtold, January, 2011
Lord, bless this site and make it be,
A place of peace, serenity,
Where people come in all their ranks
And leave inspired full of thanks.
A place to flitter like the bee,
All kinds of lovely things to see,
And take the time more deeply ponder,
Your gifts, your graces, all your wonder.
Bless each one, who here reads,
With fresh ideas, like little seeds,
To plant in hearts and keep it growing,
An abundant river overflowing.
So here on earth and at your door,
We'll thank you now and evermore.
Amen.
___________________________________
Poems by Paul Berchtold
©
Copyright - All rights reserved.
___________________________________
You are welcome to use and share this poem,
provided
you follow the
Poem Terms and Conditions
.
CHURCHES, SCHOOLS, RADIO STATIONS, NON-PROFITS

Pastors, Church Workers, Teachers, Announcers, etc.

You're welcome to publicly use and share these poems
in programs, speeches, sermons, bulletins, bulletin boards
provided you follow the Poem Terms and Conditions.

Welcome ... thank you for visiting !
Website Progress:
---- 2019. I appreciate all the visitors, and those who say a kind prayer for me, as we make progress on the website. May the Good Lord bless you, and keep you in His peace.
May God grant us many graces and blessings for soul and body this year. Let us be thankful to Him for what we receive.
Thank your stars!
© Copyright 2010 - 2019 Thank-Your-Stars.com