Thank You 

Poems for
Persons - Events - & Holidays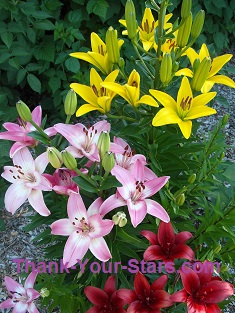 Thank you poems - inspirational, serious, even a few funny ones ...
• for the persons in your life - the stars of your life - beginning with God - and including family, friends, teachers, pastors, fellow students and fellow workers
• for life events & special occasions - such as birthdays, weddings, anniversaries, retirement, funerals
• for holidays throughout the year - because holidays are appropriate times to give thanks, and are "teachable moments" to instruct the next generation of the importance of gratitude.
_______________________________________________
CURRENT CALENDAR POEMS & THOUGHTS
_______________________________________________
_______________________________________________
_______________________________________________
Because this site is Thank-Your-Stars.com, on a semi-regular basis I post, for inspiration and encouragement, a verse on either gratitude or stars, taken from the Bible.
This one is posted as of Sunday, December 30, 2018, and is appropriate for the time after Christmas, because the feast of the Epiphany (Jan 6th, the 12 Day after Christmas), is when we celebrate the Wise Men finding the Christ Child with His Mother Mary:
The wise men said:

"Where is he that is born king of the Jews?
For we have seen his star in the east,
and have come to worship him." ...

And behold! The star they had seen in the east
went before them, until it came and stopped
over the place where the child was.

And when they saw the star,
they rejoiced with exceeding great joy,

and on entering the house they found
the child with Mary his mother
and falling down they worshiped him.

Then they opened their treasures, and offered him
gifts of gold frankincense, and myrrh.

--- Matthew 2:2, 9-11 ---
1. Website Blessing Prayer
by Paul Berchtold, January, 2011
Lord, bless this site and make it be,
A place of peace, serenity,
Where people come in all their ranks
And leave inspired full of thanks.
A place to flitter like the bee,
All kinds of lovely things to see,
And take the time more deeply ponder,
Your gifts, your graces, all your wonder.
Bless each one, who here reads,
With fresh ideas, like little seeds,
To plant in hearts and keep it growing,
An abundant river overflowing.
So here on earth and at your door,
We'll thank you now and evermore.
Amen.
___________________________________
Poems by Paul Berchtold
©
Copyright - All rights reserved.
___________________________________
You are welcome to use and share this poem,
provided
you follow the
Poem Terms and Conditions
.
CHURCHES, SCHOOLS, RADIO STATIONS, NON-PROFITS

Pastors, Church Workers, Teachers, Announcers, etc.

You're welcome to publicly use and share these poems
in programs, speeches, sermons, bulletins, bulletin boards
provided you follow the Poem Terms and Conditions.

Welcome ... thank you for visiting !
Website Progress:
---- 2019. I appreciate all the visitors, and those who say a kind prayer for me, as we make progress on the website. May the Good Lord bless you, and keep you in His peace.
May God grant us many graces and blessings for soul and body this year. Let us be thankful to Him for what we receive.
Thank your stars!
© Copyright 2010 - 2019 Thank-Your-Stars.com