Making an Advent Wreath
Here's some ideas for making an Advent wreath out of wood. It can be made very simple or very ornate, and can last for years.
Depending on your skill level, this may be a challenging carpenter project, so for your own safety, and to get the whole picture of what is involved, please FIRST read through all the instructions BEFORE starting. Thank you!
Making an Advent Wreath - From My Own Experience
My father is a carpenter. When I was a child, I first saw him make one. He was showing me and my brothers how to do it, and "we were helping". Years later, I made at least 2 of them myself. The last one I made was a bigger one for a church, so it had more pieces of wood.
I've had a lot of fun using the paint software on my new computer for the first time, to create the diagrams and images of the advent wreath on several of these advent pages, to help you in making an advent wreath.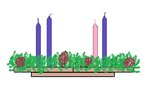 Completed Advent Wreath Wooden Frame with greens, pine cones, and candles.


Making an Wreath - Safety! Safety! Safety!

PAY ATTENTION PLEASE


For your own safety and the safety of others, you must be - skilled - safe - and alert - through this whole process!
You need be familiar with carpentry and carpentry tools to complete this project
Children must have parental or guardian permission to use tools.
Children should have proper authorized adult supervision while using tools.
You need to keep safety in mind when you build it, for those who will be using it later.
For example, you do NOT want to have a candle tipping over later, and causing a fire.
And NEVER let an Advent wreath stay lit unattended, ALWAYS have someone responsible watching carefully.
I am putting more practical tips and ideas of safety on
this special page for holiday decoration safety
.
DISCLAIMER: These holiday decoration safety tips are NOT all-inclusive. Nobody can think of every possible danger in every possible circumstance, so it's up to you to learn about fire safety, child safety, and other types of safety, and to use your head and common sense as well.

WARNING: I am putting these practical safety tips here in good faith. I am not an expert in fire safety. These safety tips may or may not work in your circumstances. Get advice from experts as to what are the best practices. Do your own research. Observe your local laws, regulations, and ordinances. You assume full liability and responsibility for your actions.
And don't forget to ask the help of your guardian angels!
Avoid Rushing while Making an Advent Wreath.
If at all possible, don't start right out, grab a saw and hammer, and start hacking the wood and hammering the nails.
Avoid rushing. Rushing is how carpenters fall off buildings and whack off their fingers - or at least ruin pieces of good wood with the wrong measurements.
Rushing is what many poor unfortunate people do when holiday shopping, during a season that should be more about quiet prayerful preparation.
Prayerful Reflection while Making an Advent Wreath
Thoughtfulness - prayer - reflection - steady application to duty - this can help make your Advent and Christmas truly meaningful and merry.
So plan ahead. I highly recommend you read all the instructions on this and other pages, first to see if this is something you can do and you really want to do, if you have the time, and second, to see all the possibilities you have.
Maybe you'll even come up with some real improvements or even better ideas that I have listed here!
Anything that is worth doing is worth doing well. You want to make your craft in such a way that when you can look at it when you're finished, you give thanks to God for all his gifts and blessings to help us do something well.
What we are lacking today are skilled craftsmen. So enjoy taking your time when you learn how to do something the first time. Once you learn how to do something well, then work at getting better and better at it. With time and practice, you may be able to later speed things up a bit.
Making an Advent Wreath - Safe and Sure
Some of the best projects I have done, was because I worked on just one thing at a time, doing a little bit every day. Sure, it may take many days to finish, but it can be much more enjoyable while doing it.
Sometimes, I just get too tired if I try to begin and finish a big project in a single day. Towards the end it can really drag out and get tiresome. And that is what can put the risk of accident much higher. I'd rather live to be around to tell the tale.
Planning Your Advent Wreath
It pays to plan ahead. Even if you don't have it ready for the beginning of Advent, this shouldn't keep you from saying the prayers around it. Let's just say for one year, it'll be a work in process. Then it'll be ready to go the next year.
That would be a whole lot better than being rushed, getting upset, and yelling at the people we love - or even getting hurt.
Advent is a reminder that life is a process, that people waited for thousands of years to be delivered from sin by the Savior.
And that even after salvation, we are constantly a work in progress.
Making an Advent Wreath - Take Your Time to Teach
If today I have some valuable carpentry skills, I have to thank my father for teaching my 2 older brothers and myself when we were quite young.
I remember doing small carpentry projects together, like making our own tool boxes, which took several Saturdays before they were finished.
I know my dad could have easily made all three in probably less than a day. But he made the sacrifice of a lot of his time to teach us how to do things well.
I remember some years later helping build the chicken coop, by nailing spacers in the wall frames, a difficult thing to do because some of the nails go in at an odd angle. It's what they call "toe-nailing." I felt I had accomplished something important on my own, and I know it came from God giving me the ability, and all the help from my dad teaching how to nail things together, and how to pull nails out of wood. And even showing us how to sweep and clean up afterward.
By showing I don't mean telling. I mean he was right there working with us, helping us. When he thought we were ready enough to use a tool like a jigsaw, he'd show us first. Then he'd ask if we'd like to try, usually on a piece of scrap wood first.
Okay, one more carpenter tip and we'll get right into it.
Making an Advent Wreath Frame - The Carpenter's Way
I think a wooden Advent Wreath is a very good Advent carpenter project, reminding us of Joseph the carpenter, spouse of Mary, and foster father of Jesus.
Joseph has a very important role and was very much involved in the First Advent - First Christmas Story. He made many sacrifices and saved both Jesus and Mary from certain death. Herod would have killed Jesus, and Mary would have been stoned to death, unless Joseph had heeded the warnings from the angel in his dreams.
They say a picture is worth a thousand words, and for those who want to build a wooden Advent Wreath, I spent some time drawing these pictures to make a better explanation, so I hope they help.
Making an Advent Wreath Frame - The Wood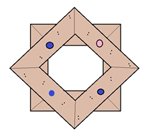 When I was making an advent wreath frame, I used 1" x 4" pine wood, which is softer to screw in. If you use a harder wood, you may have to drill your screw holes in first.
You can also design your wreath to have more pieces than 2 squares (4 sided - 8 pieces) on top each other, like a hexagon (6 sided - 12 pieces) or an octagon (8 sided - 16 pieces). The problem with a hexagon (6 sides) is your candle placement, 2 of the candle holes would end up in the cracks if you're not careful.
If you use more pieces, the angle of the cut at the end of each will be different than with fewer pieces.
The advantage of more pieces is a more circular look.
The disadvantage is you have to be really careful it is screwed tightly together and is a good fit, especially if you are going to hang your wreath from the ceiling with eye hooks and wire ...
I recommend you have your candles ready first. That way you can get a feel for the right size of the wreath. Make sure the candles are a standard size, since your candle holders or the candle holes you drill will be used year after year.
You may want to use thicker wood on top, like a 2" x 4", so that the drill holes are deeper. Or you can re-drill the hole when assembled, so the hole goes a bit deeper into the next piece of wood.
You could even make both layers out of 2" x 4", but then you get to a point you may need to varnish the sides to make it look nice, or cover it with more greens, because that makes it 3" tall on the side - if it is a smooth piece of lumber. (A 2" by 4" is actually the dimension it is cut, before it is planed down. If your lumber is still rough, the side would actually be closer to 4".)
Making a Diagram of the Advent Wreath Frame
It might help to design the wreath frame on a piece of paper first. Then, once you have cut out one piece of wood, you have a pattern for the rest.
Your dimensions for your wreath will depend on the size of the wreath you want, and the size of the wood you are working with. Where will you be placing the wreath? How big are the candles?
If the wreath is too small, it may not be heavy enough and wide enough to give stability, and can more easily tip over.
Make sure the place you plan to put your wreath - such as a table - is also strong and heavy enough to give stability. It's easy to accidentally bump a table or other peice of furniture.
Making the Candle Holes or Holders in the Advent Wreath Frame
There are several options for the candle holes / holders:
You may want to drill holes into four of the pieces of wood before assembling.
The size of the holes is critical. Make sure the holes make a snug and deep enough fit for your candles. You do not want the candles falling over into the dry flammable greens!
You also might want to use short lengths of metal pipe screwed into your wood.
You may want to use candle holders, especially if they are not too little or lose, and can be screwed solidly into the wood
One church I know uses very wide candles, approximately 3 inches wide. They carved out the top and inserted little white votive candles in a metal container, and when it burns low, they replace it, so they keep the candles year after year, and they never have the problem of the original candles looking too short and stubby
Putting the Advent Wreath Frame Together
Probably the best way to assemble the pieces of wood is with screws from the back side. If you use nails, it tends to loosen up very quickly over time.
Make sure they are short enough to not go through the top, but long enough to get a real bite into the second piece of wood.
In most of my small carpentry projects, I use gold decking screws, and add a few more screws than normal.
You want the screw heads sunk in slightly into the wood, so it won't scratch any furniture, such as a table top. Even if you cover the table with cloth, the screw can tear cloth fibers.
Just be careful you don't keep driving your screw in and out to sink it deeper, or it sometimes gets too hot or pops the head off, especially on decking screws. You might want to pre-drill your holes instead.
Attaching the Evergreens on the Advent Wreath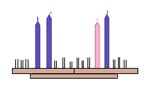 Make sure your evergreens are fresh. If they get real dry, get some more fresh ones if you can, because dry evergreens are extremely flammable - they can catch fire very quickly.
Even fresh looking greens can burn very, very fast.
There are many ways to hold the evergreens onto the wreath. Some folks take thin ribbon and go round and round starting on one side of the wreath, wrapping greens in as they go. You have to keep picking up the wreath to put it under, or hold it sideways in your hand or propped on a table.
You can also use green covered wire, or green-colored (or dark-colored) string.
What worked for me, was tacking pairs of finish nails into the top of the wood, long enough to go deep enough into the wood to be solid (but not go out the other side) and still be tall enough to take several small branches at a time. Cut or break the branches down into smaller clumps if necessary.
The finish nails are spaced far enough apart to handle the stems, which snapped into place.
Why finish nails? The heads of larger nails become too visible, and it would be pretty hard to get stems in, and if you did, they would probably fit too loose.
Doing it this way, you do have to careful to keep your hands from getting too close to the finish nails - such as when lighting the candles or reaching into the inside of the wreath - else the nail heads can scratch or tear your hands or wrists if you're not careful.
This method may make it a problem when storing your wreath for next year, because the finish nails might tear your plastic bag you put your wreath in to keep it dust free for next year.
Finish your Advent Wreath with the Candles - and a Prayer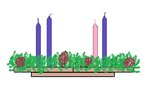 Time to put the candles in. Again, make sure they are a very snug fit. As I said above, you don't want them tipping over and possibly causing a fire.
And a prayer? You betcha ! Don't forget to tell your guardian angel thank you for keeping you safe and helping you finish a nice looking job. In fact, it's probably right around the American Thanksgiving holiday when you'll be making an Advent wreath in time before the Advent season starts.
And if you're a child, be sure to also thank your parent - guardian - responsible adult supervisor for helping you.
And if you're a parent - guardian - responsible adult supervisor, don't forget to give a good example and thank your children - students for their help, and teach them to be thankful.
It's all about thanking your stars - the precious stars in your life.
Lighting the Advent Wreath Candles with a Blessing and Prayers
Congratulations! Your wreath is finished, you're ready to use it. There are special prayers to bless the wreath and prayers to pray when lighting the candles, beginning with just one purple candle during the first week of Advent.
You will find these blessings, prayers, and instructions at
Advent Wreath Prayers - Advent Candle Readings
.
More Options and Ideas for Making an Advent Wreath Frame
One great idea is that you could varnish the wood on your wreath and make it look A-1 First Class.
I get sick on paint fumes, so I don't like to varnish or paint. And, for the most part, the wreath is covered by evergreens. You can add pine cones also, if you wish.
You can also use artificial greenery and cones.
You can find advent candles online, and even in some local stores.
There's more information on the candles, such as the proper colors to use, in
the history and meaning of the Advent wreath
. I also explain how you can use plain white candles and put the correct colored ribbons on them to make do.
Advent Bible Studies and Scripture Readings
When gathering around the wreath daily - or at least every Sunday - to light the candles, it's also a good time for special
Advent Bible Studies - Advent Scriptures
to make the time special, and create memories that last forever - literally forever.
The world was lost for 4000 years - and still is now - without Christ. Find real hope from Old and New Testament Advent scriptures.
Making an Advent Wreath into a Christmas Wreath Decoration
I have some ideas how you can change your Advent wreath into a Christmas wreath, and save time. It's nice to see the transformation. Just like when Jesus finally came after 4000 years.
You'll find these tips and ideas in the
history and meaning of the Advent wreath
.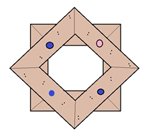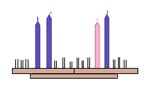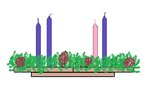 Go to Advent Reflections and Poems.
Go to Home Page.
© Copyright 2010 - 2023 Thank-Your-Stars.com