3 Epiphany Poems

Thoughts and Customs on Epiphany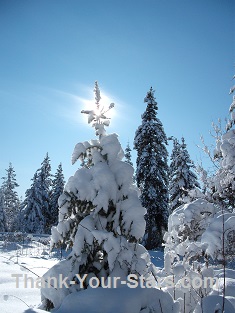 These Epiphany poems celebrate a special event shortly after Christmas.
What is the Epiphany? And, when is the Epiphany?
The Feast of the Epiphany is traditionally celebrated 12 days after Christmas, on January 6th.
This feast celebrates the event, when the Wise Men - also known as the Magi or 3 Kings - followed a star to Bethlehem, and brought gifts of gold, frankincense, and myrrh to worship the newborn King of the Jews, Jesus Christ.
Here is part of the bible account, in the Gospel of Matthew, chapter 2.
The wise men said:

"Where is he that is born king of the Jews?
For we have seen his star in the east,
and have come to worship him." ...

And behold! The star they had seen in the east
went before them, until it came and stopped
over the place where the child was.

And when they saw the star,
they rejoiced with exceeding great joy,

and on entering the house they found
the child with Mary his mother
and falling down they worshiped him.

Then they opened their treasures, and offered him
gifts of gold frankincense, and myrrh.

--- Matthew 2:2, 9-11 ---
This bumper sticker has been seen on cars, stating:

Wise Men Still Seek Him

In reply, this bumper sticker has also been seen on cars:

Wise Men Still Find Him
With Mary

Some biblical commentators say that the star the wise men saw is a symbol of Mary, who best leads us to Jesus.

The word Epiphany means "manifestation".
By celebrating this feast, we honor the "manifestation" of God to the people who are not Jewish - the Gentile nations.
You are welcome to use and share these poems,
provided
you follow the
Poem Terms and Conditions.
376. A Christmas Interview with the Wise Men
by Paul Berchtold, December, 2013
Welcome, sages from foreign lands!
Why have you come with retinue?
Your caravan is numerous,
What do we owe your visit to?
Months ago we found in the sky,
A star our writings long foretold.
It led us to Jerusalem,
We thought it must the secret hold.
But Jerusalem, so crowded,
Was too busy in great uproar.
They took us to King Herod,
A palace rotten to the core.
We asked where on earth is he who
Is the newborn king of the Jews?
We saw his star, have come from East,
This only chance we dare not lose.
In Bethlehem, their priests told us,
When searching in the Holy Book.
Herod said, Come back and tell me,
You first go and have a look.
Back on the road, we saw the star.
Our hearts rejoiced exceedingly.
It led us to a house in town.
We followed it most willingly. (cheerfully)
We found the child, simple and poor,
No crowns, jewels, or costly rings.
His Mother Mary, welcomed us.
We then adored the King of kings.
We then offered our precious gifts,
Frank-incense, and myrrh, and gold.
We then knew a much richer find,
A love that can hardly be told.
We did not go back to Herod.
An angel warned us in a dream.
Herod had lied, saying he would,
Come to adore, so it would seem.
Thank you, wise men of the ages,
I see you're filled with peace and joy.
For peace on earth, first in our hearts.
Heavenly means we must employ.
The story of the wise men is found in the Holy Bible, Gospel of Matthew, chapter 2, verses 1-12.
---
377. Star Attraction
by Paul Berchtold, December, 2013
Wise men saw a star in the east,
They followed it from distant lands.
The long journey took many weeks,
Over mountains and desert sands.
Did the star attract? Have power,
To bring them closer, sure but slow?
Had they no choice, in the matter,
But say, O well, we have to go?
Alas, it was not just the star.
Many millions saw it's shining.
But so few followed, that's because
So few hearts were truly pining.
These men were wise, acting promptly,
Their hearts were ready to follow.
Not like folks in Jerusalem,
Who had mere intentions hollow.
They paid the price, for many years,
Searching long, with hope and desire.
They prepared, waited, faithfully,
They did not let go out the fire.
Real stars sacrifice. They even
Leave country; go the extra mile,
Like these wise men. Who found Jesus.
Who left heaven for quite awhile.
---
378. Costly Gifts
by Paul Berchtold, December, 2013
When wise men came to find the Child,
They brought with them costly treasure.
They gave gold, frankincense, and myrrh.
Presents for the new king's pleasure.
God is pleased when we bring to him,
Virtues that these gifts symbolize.
The gold of love, myrrh of sacrifice,
And incense as prayers before his eyes.
It's wise to give the gold of love,
Kindness in thought and word and deed,
It's often the little things that count,
A smile, a word, help one in need.
It's wise to give the incense, prayer,
Rising up as smoke sweet-smelling,
Not just prayer from our lips alone,
But deep from our heart, upwelling.
It's wise to give myrrh, sacrifice,
In everything to do our best,
To give with generosity,
In what we do we will be blest.
But be wiser. Unite with Christ,
He is the Gift. He is God's Son.
The best we give, it is nothing
Compared to Christ, what he has done.
Jesus gives us his boundless love,
He came to show us how to pray,
He gave his life in sacrifice.
He is the truth, the life, the way.
Jesus said, "I am the way and the truth and the life." This is found in John 14:6.
___________________________________
Poems by Paul Berchtold
©
Copyright - All rights reserved.
___________________________________
You are welcome to use and share these poems,
provided
you follow the
Poem Terms and Conditions.
What the 3 Gifts Symbolize
The wise men brought 3 gifts.
The bible does not say, but it is traditionally considered that there were 3 Wise men.
The bible does say, however, that they brought 3 gifts, gold, frankincense, and myrrh.
The gold - a symbol of royalty, used by the nobility - was to honor Jesus as King.
The frankincense - a symbol of worship, used in religious service - honors Jesus as God.
The myrrh. - a symbol of death, used in burial - honors Jesus as Man.
What the 3 Gifts Represent
The 3 gifts the Wise men brought, represent 3 special virtues.
Gold represents charity. Frankincense represents prayer. And myrrh represents sacrifice.
Some Epiphany Customs
Spain celebrates January 6th with a custom of the "Day of the 3 Kings - Dia de los Reyes Magos". 3 men or boys dress up as kings, and ride horses, donkeys, or camels into town.
In our family, school, and church community, we would have an Epiphany Party.
In the cupcakes served, 3 of them would have a bean.
When you found it, you announced it. They said that you either excelled in, or needed to improve in, the virtue associated with each of the Wise Men's gift.
For the first person, it was gold for charity. The second person to find a bean, it was frankincense for prayer. The third person was myrrh for sacrifice.
Because it was near the beginning of the year, often at those parties, we each drew slips of paper on which were written - bible verses, spiritual sayings, a holy person to imitate, a country in the world to pray for, and/or a virtue to practice for the rest of the year.
We all need heavenly help.
Thank your stars!
Go to Christmas Poems, Stories, Customs and Traditions.
Go to Home Page.
© Copyright 2010 - 2023 Thank-Your-Stars.com