Poem For Pastor Appreciation Day

Thank You Pastor Poems

This is a poem for Pastor Appreciation Day, written by a pastor, for pastors.
The word pastor comes from a Latin word meaning shepherd.
The best pastor of all is Jesus, who said, "I am the Good Shepherd." No one knows your pastor's heart and what he truly needs better than the Good Shepherd.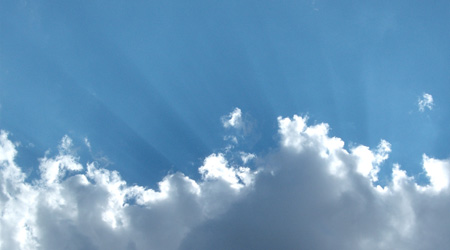 Puffy white clouds - Scattered Light Rays - Deeper Blue Sky
A Reminder of the Hidden Treasures of Heaven
A comment on the photo.
I took this photo just 2 days before I wrote this poem. It was in the early afternoon. The sun was high in the sky behind clouds overhead.
In the Scriptures, we find that clouds are associated with the Glory of God. You'll see why I chose this photo when you read this poem for Pastor Appreciation Day.
* * * * * * * * * * * * * * * * * * * * * * * * * *

9. The Very Best Pastor Appreciation

by Paul Berchtold, August, 2010
This poem, Pastor, is just for you,
We want to give our best,
But wait 'til heaven, wait 'til heaven,
The place of happy rest.
Today it's time to decorate
To thank you is our duty,
But wait 'til heaven, where you'll see,
Most brilliant stunning beauty.
Today we're here to say our thanks,
With voices loud and fervent,
But wait 'til heaven, when you hear,
Well done, good faithful servant.
Today we're pleased to honor you,
Recite some poetry with charm.
But wait 'til heaven when you feel,
God's gentle loving arm.
Today we'll even try to sing,
A hymn, a song, a melody,
But wait 'til heaven, you'll float away,
When angels sing in harmony.
Today we'd like to hug and kiss you,
Give you big embraces,
But wait 'til heaven when God showers,
The biggest of His graces.
Today we celebrate with food and drink,
A feast for you, our Pastor,
But wait till heaven when you join,
The banquet of the Master.
Today we bring a gift or two,
The best we can afford,
But wait 'til heaven to receive,
An eternal reward.
Today we take a little break,
You work with zeal and zest.
But wait 'til Heaven to enjoy,
Forever Peace and rest.
Today is passing, we're growing old,
This life grows wearisome,
Let's all remember time will end,
The best is yet to come.
Today it's best we stop and pray,
Our prayers to God we send,
That He a special place reserve,
A place for you, dear friend.
___________________________________

Poems by Paul Berchtold
© Copyright - All rights reserved.
___________________________________


You are welcome to use and share this poem, provided you follow the Poem Terms and Conditions.

Go to Pastor Appreciation Ideas from Poem for Pastor Appreciation Day.