Grandparents Poems

In Loving Memory Poems

I wrote all these grandparents poems in loving memory to my grandparents.
They are stars showing the way to Heaven by their shining example.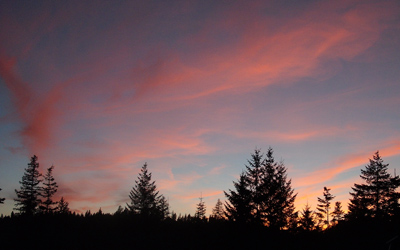 Sunset Pics - Cloud Dance at Last Light
A comment on the photo.
The day I wrote this "grandparents poem" and the "beautiful love stories" of Gramma and Grampa, I was busy building these web pages, when I realized it was getting dark outside. I ran out to close the chicken barn door, and saw this sunset.
I probably missed the best part of it, but I'm glad I got a few shots in. Especially this one of the four clumps of trees, reminder of my four grandparents.

16. Stars on Earth, Shine in Heaven!
by Paul Berchtold, September 2010
Here on earth, it's like you are
Shining brightly like a star,
Showing us the well-worn road,
How to bear the daily load.
Now your earthly life is done,
No doubt you're shining like the sun,
Shining ever warm and bright,
Full of peace and great delight,
Remember us, this we pray,
Until we see you on that day,
Home in Heaven forever,
No more pain, no not ever.
Was it worth it, all the pain?
Yes, oh yes, what great gain,
Jewels, riches, best of treasure,
Every moment beyond measure.
Until then, I hope to live,
Learn from you how to give,
How to leave a legacy,
Worthy of your memory.
Thank you for your dedication,
To your work, your vocation,
O how much your life teaches,
O how far your love reaches.
Until we see you, one thing more
Have lots of fun at Heaven's door.
May you be richly blessed,
Have fun, enjoy eternal rest.
Amen.
by Paul Berchtold, August 2011
Grandparents wise,
Who in God's eyes,
Pass his own test,
To enter rest.
May you, O Lord,
Give them reward.
You give children,
And grandchildren.
We now pray,
Bless them today,
In your own place,
Your home of grace.
Amen.
___________________________________

Poems by Paul Berchtold
© Copyright - All rights reserved.
___________________________________


You are welcome to use and share this poem, provided you follow the Poem Terms and Conditions.

Grandparents Poems - Down Memory Lane
My Grandparents loved each other through thick and thin. They kept their marriage promise, their marriage vows, "for better, for worse, for richer, for poorer, in sickness and in health, until death do us part."
For me, their memory and their stories are a rich heritage in our family.
Read the story of how they helped each other in very hard times in my Gramma and Grampa's beautiful love stories.
It'll help you appreciate this poem, which I wrote as I was finishing their beautiful true love stories, so it's a good background sketch to understand what this poem is talking about.
Gramma and Grampa are a good example to us all. They are such a blessing. I have no doubt, they look down from Heaven, back on every moment of their life, and praise God for his goodness.
They can say that all the trouble they went through was so much worth it for all the joy and happiness they enjoy, and will be enjoying, for all eternity.

Grandparents Poems - Up to Heaven
I picture God giving my Grandparents a big welcome hug to His home, saying to them, "Well done, my dear good and faithful friends."
Thank you, my dear Gramma's and Grandpa's. I am so lucky, so blessed, to see in your life a precious example of true love.
Many blessings, Gramma and Grandpa! I hope and pray to see you and all my family and friends in Heaven!
Thank your stars!

Go to National Grandparents Day from Grandparents Poems.