Comforting Poems

Words Of Comfort In Bereavement - Bereavement Verses

I pray that the comforting poems on this website bring words of comfort in bereavement, loss, grief, sorrow, sadness or depression, for you, a loved one, or a friend.
In every storm, there is hope.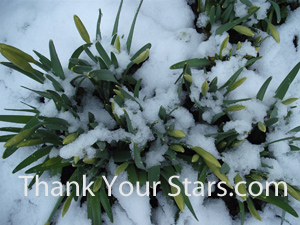 Spring daffodils under a 4 inch blanket of snow.
This photo was taken at 9:27 am on Sunday, March 27, 2011
We have hope that one day, the sun will gently shine.

128. Rain Flowers

by Paul Berchtold, April, 2011
In the sleet, the rain, the snow,
Spring flowers have begun to grow,
Sending shoots all shades of green,
Into air so fresh and clean.
Spring rains remind the worth of tears,
God melts the snow, he calms our fears,
One day, sorrow will turn to song,
Heaven's flowers will sing along.
There is hope for those who hurt,
See the flowers, they stay alert,
In cold weather, see how they grow,
And even bloom, in pure white snow.
Having died in deepest pain,
Christ will now forever reign,
Once come forth from Mary's birth,
Comes now risen from the earth.
Cheer comes now to the discouraged,
God cares that all be encouraged,
Gives truest peace to those who grieve,
One day will make cold winter leave.
Little plants, receive new vigor,
Face the struggle, pain, and rigor,
The latest storm is not your doom,
Break forth bud, with beauty bloom.
Arise in beauty, little flowers!
Do your duty, divine powers!
Alleluia! Let all nature sing.
Alleluia! To the gentle king.
Amen.
___________________________________

Poems by Paul Berchtold
© Copyright - All rights reserved.
___________________________________


You are welcome to use and share this poem, provided you follow the Poem Terms and Conditions.

More Comforting Poems - Hope
Because Christ died, we have the hope of the resurrection.
While Easter Sunday is joyful to many, it can never be separated from the terrible price Christ paid to bring us salvation, by his suffering and death on the cross on Good Friday, and the grief and sorrow this caused to his family and friends, especially his mother.
On the other hand, we cannot reflect just on Good Friday either. Even as we linger at the cross of Christ, even in bitter grief of soul, we have hope. A hope against all hope. (God's gift of hope when it seems there is no hope.)
While there are more sympathy poems in this section of the website, may I recommend you also check out some poems I did for Easter that may meet your need.
In particular, one of them is titled "Painful Sabbath Memories", a poem for Holy Saturday, the day of grief after Good Friday and before Easter Sunday.

Comforting Poems - Hope in Joy, Hope in Sadness
It is especially bittersweet - if there's any sweetness at all - to go through a usually joyful time, like a holiday, birthday, or anniversary, during a period of grief or mourning.
But even in the most tragic circumstances, let us never give up hope, even in the greatest sadness. Pour out your grief to God. This in itself is a prayer, which he always answers. He grants courage, comfort, strength in unseen ways.
Many great souls have cried out to God, even in anger or frustration, feeling betrayed, denied, rejected, abandoned. For example, Moses, and David.
Even Jesus dying on the cross, cried to his father that he had rejected him. It was his 4th word, which we find in the 7 last words of Jesus.

Comforting Poems - What is the Symbol of Hope?
A ship's anchor has been used as a symbol of hope for centuries.
When we are in the middle of life's storms, hope is our anchor.
We don't see the anchor in the water. While on the boat we may still feel the full brunt of the storm. But when the anchor is dropped to the bottom of the water, it holds the ship in place. It keeps the ship from smashing on the rocks on shore, or being blown in the other direction way out to sea and getting lost.
Often sailors waited for days or weeks before the storm stopped and better weather came, but the anchor kept them safe.

Comforting Poems - Give Thanks for Hope
What would we do without hope? It is such a precious gift from God, which he wishes to give to us even in the most desperate times.
Thank your stars for hope.

Go to Words of Sympathy from Comforting Poems.